We're pleased to offer the following services in our hospital:
Well visits, annual exams, puppy/kitten "pediatric" appointments, microchipping, nail clips (by appointment, not same day), tick disease and heartworm disease testing, feline leukemia testing, in-house blood chemistry, x-rays, surgeries, dentistry and more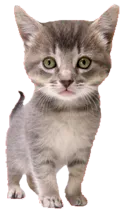 Appointments 716-679-1561. (WE ARE CURRENTLY NOT TAKING NEW CLIENTS)
Our professional team will attempt to accommodate all requests to the best of our ability. If you are an established client and you feel you have an emergency with your pet, please call us so that we can make sure a doctor is available immediately.
SAME DAY EMERGENT AND URGENT CARE IS LIMITED AS OUR SCHEDULE IS BOOKED SEVERAL DAYS OUT AND URGENT CARE APPOINTMENTS ARE FILLED QUICKLY. If you are an established client and this is a pet we've seen before, this saves an incredible amount of time. Call and see if we can fit you in, but it may not be same day.
Types of Pets Seen

AT THIS TIME, WE ARE ONLY SEEING DOGS AND CATS
Fredonia Animal Hospital accepts payment via cash, check, MasterCard, Visa, Discover, and CareCredit. So that we can continue to provide you high quality service utilizing the best medical technologies, we request that payment be made at the time services are rendered.
We provide estimates for all surgeries and hospitalizations. If you have not received an estimate, you are welcome to request one at any time for your expected charges.
Estimates are not guaranteed quotes as each patient and procedure is unique
and may require more or less professional attention.
Fredonia Animal Hospital offers discounted services for seeing eye dogs. Please call us for more information.