Dr. Jon D. Redfield has owned the Fredonia Animal Hospital since 1999. Born and raised in central New York, he graduated from Homer Central High School and completed a 4-year tour of duty in the United States Army Veterinary Corps as a veterinary technician. He received his bachelor of science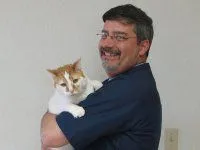 degree in biology and masters in secondary science education from SUNY Cortland and then attended the New York State College of Veterinary Medicine at Cornell University where he was awarded a Doctor of Veterinary Medicine Degree in 1991. Dr. and Mrs. Redfield and their three sons have made Fredonia their home since 1993. In his spare time, Dr. Redfield enjoys woodworking, gardening, family activities and spoiling his dogs (Lucy and Toby).
Dr. Redfield is pictured, here, with office cat "Junior"
Dr. Josef M. Powell and Linda Powell, LVT founded the Fredonia Animal
Hospital in 1969. He was born and raised in Chautauqua County and went on to complete his undergraduate studies at Cornell University school of Agriculture before receiving his Doctor of Veterinary Medicine Degree from the New York State College of Veterinary Medicine at Cornell University. Although semi-retired, Dr. Powell provides us with his many years of experience two days each week. On his free days, he enjoys spending time with his four daughters and 12 grandchildren. He has also received awards for the restoration work he has done on antique tractors.
Dr. Powell is pictured, here, with canine staff member "Cheyenne"
Sharon B. Redfield, practice manager, graduated from Cortland, NY Senior High School and attended SUNY Fredonia before graduating from SUNY Cortland with a bachelor of science degree in elementary science education. She worked for nine years as a pharmacy technician in both the retail and institutional settings and taught in the Cortland City School District before relocating here in 1993 with her husband and family. Sharon enjoys the science of veterinary medicine and thoroughly enjoys working with her long time staff members.