Welcome to theFredonia Animal Hospital
Your veterinarians in western New York State!
Call us today! 716-679-1561
---
IMPORTANT: If you have symptoms of COVID, have been exposed to someone with symptoms, or are in quarantine for any reason, please do not come to our hospital. Be honest with our staff. Make arrangements for someone else to bring your pet in for the time being.
---
Boarding: We are currently boarding only cats. Our surgery and treatment schedule is very busy during the week leaving no room for boarding dogs. Boarding for dogs that are current patients with multiple medical needs is done on a case by case basis, space and staff permitting.

No walk ins. Patients seen by appointments only.
Appointments: Nationwide, animal hospitals and clinics have seen a huge increase of new patients while also dealing with staffing shortages (doctors, technicians as well as all highly trained staff). It is no different here in Chautauqua County. When calling for an appointment, availability for well visits and vaccinations may be anywhere from one to three weeks. Getting you in the same day, or even week, won't happen as we already have each appointment filled well in advance or with patients with critical needs. Please plan accordingly.
Emergencies: If you are an established client, we have seen your pet before and they are ill or injured, we will do our best to get you in when you call. Please understand that our schedule every single day is double booked with only one doctor. We are doing our best. Please be patient with our staff. They cannot make more hours in a day or create more doctors.
---

We are taking the following steps to protect clients and staff:

Thoroughly sanitizing as recommended by the CDC and the American Veterinary Medical Association with approved virucidal, bactericidal and fungicidal products safe for animals and people throughout the day and in between each appointment.
Hand sanitizer available to staff and clients in every room including a touchless station in the entryway.
Frequent cleaning of all surfaces including doors, counters, handles, seating areas, tables and electronics.
We require face MASKS be worn over mouth and nose by ALL in EXAM ROOMS, including children ages 3+ and those who have been vaccinated. Our exam rooms are small, and Covid is BIG. If you do not have a mask we are happy to provide one to you at no cost.

Please call ahead for medication and food refills to give our busy staff the time and attention needed. When arriving to pick up, no need to call. Come right on in. Please just one person per pick up as our reception area is small.
When arriving for appointment, call from your car to check in and tell us what number parking space you are in. Your car is the waiting room! Please only park in a numbered spot and not off to the side or in front of the building. Each spot is numbered 1-9 with our phone number. If an exam room is available, we will have you come in and go directly into a room. If need be, we may ask you to wait in the comfort of your own car and we'll call you when a room is ready. Feel free to walk your leashed dog on our large yard and sit on the bench by the flower pots. Listen to music in your car. Dance in your seat. We won't judge!!
Also, make sure that you are in the right state. There are a couple other clinics with our name in the midwest. We get calls from people saying they are waiting in our parking lot and no one is there. The same happens to these other hospitals. It gives us a chuckle, but please call the number on the sign in front of you. Siri, on your iPhone, might be having a bad year.

This is a busy and dangerous highway. PLEASE make sure your dog is leashed and your cat is in a secure carrier.

Please pay attention to the distance markers on the floor and walls and stand where indicated. If you do not wish to come into the waiting room while someone else is here, feel free to wait on the bench in the waiting area away from the doors.

We are truly doing our best to stay stocked with medication and supplies, but every medical industry - veterinary and human - is having issues with availability, raw materials and shipping. Some items may be delayed due to back orders, some may be allocated only to human medicine temporarily, or they may be in transit which has been unpredictable and slow. Once things are in the hands of shippers, neither us or the distributers can do anything.

Hours:
Monday - Friday 8am to 6pm
Saturdays 8am to noon
(Closed some Saturdays. Call ahead)
Closed Saturday afternoons and Sunday.
Finally, we are asking for your patience and understanding. Your kindness and good manners.
We sincerely appreciate your patience and understanding.
_____________________________________________________________________________________
Celebrating Over 50 years!

Please call for an appointment! We want to make sure the appropriate time is scheduled for your pet's needs. Call and speak to one of our knowledgeable staff members to make an appointment! 679-1561
The following products are available for flea, tick and heartworm prevention. Please ask staff about rebates and promotions as they change frequently by the manufacturers. All are available in single doses or in larger quantities. Please note that many are only available as a prescription product requiring that we follow the law and perform yearly exams to dispense.
DOGS
Seresto Flea Collars (fleas and ticks), Frontline GOLD topical (fleas and ticks) (available only through veterinarians), Advantix Topical (fleas, ticks), NexGard Oral Chews (fleas and ticks) RX ONLY, Simparica Trio Oral Chews (fleas, ticks, & heartworm) RX ONLY
Heartgard Plus and Interceptor Plus for heartworm prevention RX ONLY
Adults must have negative heartworm test yearly for Simparica Trio, Heartgard Plus and Interceptor Plus.

CATS
Seresto Collar (fleas, ticks), Advantage (fleas), Frontline Gold (fleas and ticks), Revolution Plus Topical (fleas, ticks, feline heartworm, internal parasites) RX ONLY
Any new patient (new or current client) - one FREE dose of Flea and tick control. Puppies also get heartworm prevention.
(Flea/tick control products are guaranteed by the manufacturer only when purchased through a veterinarian as the products are shipped directly from the manufacturer, staff are properly educated on dosage and administration, and there is no chance of counterfeit products)
**************************
Veterinarians Dr. Jon Redfield and Dr. Josef Powell at Fredonia Animal Hospital are one of the best team of veterinarians in the Fredonia area and are committed to your pet's health and well being. Fredonia Animal Hospital excels in pet care and the science of veterinary medicine.

History and Experience: The doctors and staff at Fredonia Animal Hospital have provided our community with compassionate veterinary care and pet services since 1969, making us the animal clinic of choice for pet owners in and aroundFredonia, Chautauquaand Cattaraugus counties and southernErie county.
Dedication: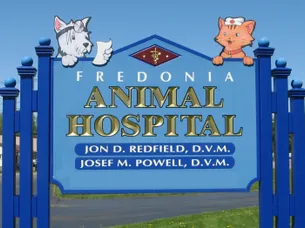 Fredonia Animal Hospital is a full-service animal hospital whose mission is to provide the highest standard of veterinary care for pets.Wehave a remarkable and highly educatedstaff.We invest in our patients by constantly educating and training our staffmembers and building our client education program. Our staff attends monthly or twice monthlyeducation meetings. We also make sure they attend regionaland national seminars to learn from their peers, be they kennel managers, receptionists, technicians or doctors.
Services: The Fredonia Animal Hospital offers the Fredonia community emergency veterinary care as well as medical, surgical, and dental services. We also have an in-house pharmacy, laboratory, radiology suiteand climate controlled hospital wards and boarding facilities. With access toveterinary specialists nearby,our veterinary facility is a one-stop shop for your pet's health and medical needs. Remember, atthe Fredonia Animal Hospital, your pets are our family!
Family Oriented: We believethat to provide the best veterinary care to your pets we must bring the family into the picture from the very beginning.We encourage children to attend health checks and tour the facility. We understand that the pet members of the family are crucial in theemotional development of the child. Questions and concerns arise.Trust our staff in knowing that they will provide age appropriate answers to their questions including child geared grief counseling as needed.
We genuinely care about the pet members of your family! Our staff is passionate about veterinary medicine. We strive to provide professional, affordable, and advanced veterinary services. At the Fredonia Animal Hospital, you will walk into a clean, calm, welcoming, and friendly environment every visit, so that the experience is as comfortable as possible for you, your family and your pet.
Accredited: The Fredonia Animal Hospital is one of only 15% of veterinary practices in North America accredited by the American Animal Hospital Association (AAHA). There are only two accredited veterinary facilities in Chautauqua County and the Fredonia Animal Hospital is the only one in the northern end of the county. AAHA is the only organization that accredits animal hospitals throughout the U.S. and Canada. AAHA-accredited hospitals voluntarily choose to be evaluated on 900 rigorous standards in the following areas: quality of care; diagnostic & pharmacy; management; medical records; and facility. A hard, but well earned, accreditation from AAHA meansthat this facility is among a very select few in the country trusted by our professional peers to provide the best care in the safest environment.
Website: Look no further than this site to provide you with accurate veterinary medical and behavioral information. You can be assured that the information obtained here is approved by the doctors and staff of FAH. On the bar above, click on Pet Health to find hundreds of articles! Search by topic and/or species.If you need information on any topic, behavior or medical, that you do not see on this website, call us and we would be happy to mail or e-mail you information. If you are new to our website, please browse around to learn about our facility and to read interesting pet articles and watch groundbreaking pet videos.In our new patient center you will find links to valuable veterinary resources, grief counseling links as well as FAH staff favorite animal TV shows! For directions to our office see our contact us page. To receive free monthly veterinary care articles, please subscribe to our newsletter. Look for us on Facebook too.
Dr. Jon D. Redfield
Fredonia Animal Hospital
716-679-1561
10049 Route 60
Fredonia, NY 14063
---